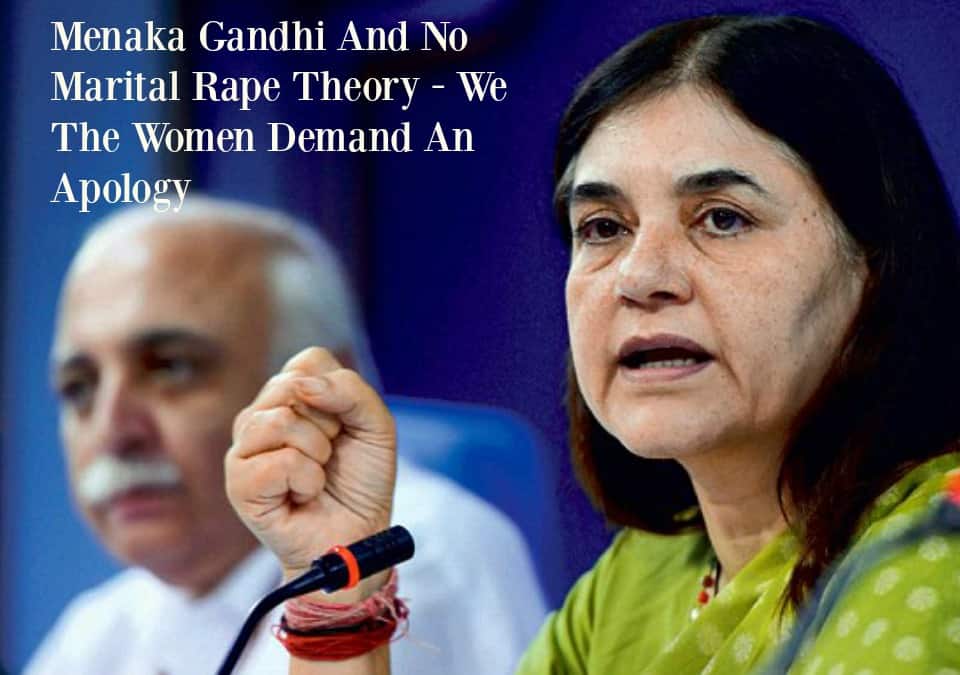 I usually don't take a political stance but this one got me furious. I mean really? Someone who claims to have so much love and compassion for animals, has such little regard for her own species and gender? And we chose these type of people to be our leaders? Sadly, our filters in this case, are so low or are we really left with no options?
Last week, Maneka Gandhi, minister for child and women development, in a written reply in Parliament to a question on whether the government is planning on criminalizing rape, said: "It is considered that the concept of marital rape, as understood internationally, cannot be suitably applied in the Indian context due to various factors like level of education/illiteracy, poverty". Mark the words "concept of marital rape".
news clip courtesy: http://www.livemint.com
Is she supposed to protect women and child interests?
So as per her, it's not ok if we women get attacked/ assaulted/raped or harrassed by the men outside our homes, but it's absolutely ok if our men( our husbands) do the same to us. Why? Are we some bonded labours to our married partners? She in her callous way may not realised that she might be giving liberty to so many men and killing the voice of so many women, who are anyway suffering in an unmatched alliance. Does this not reinstate everything we ever wanted to do away with feminism? And this comes just after we just finished celebrating women's day.
Some stats:
Domestic violence has emerged as the single-largest crime against women. In 2013, the National Crime Records Bureau (NCRB) reported over 118,000 domestic violence cases, which made up a third of all crimes against women, far ahead of molestation (70,739) and rape (33,707). The number of reported domestic violence cases also shot up from a mere 50,703 in 2003 before the passage of the Domestic Violence Act of 2005.
In the two years since it was set up, the women's crisis helpline 181 has received close to 500,000 distress calls relating specifically to domestic violence, says a person associated with the number.
news clip courtesy: http://www.livemint.com
These are facts not fantasy. It makes me feel, she got distressed handling so many cases, so decided to unburden herself with this new law.
She then goes ahead and gives a further blow to the country by justifying her atrocious statement on pretext of our nation being illiterate and poor. While our dear PM Mr. Modi is trying to set the Indian flag high in setting up as a global trade hub, this is clearly throwing us in a very poor light. Then again for once if I do believe her and say you are right Mrs Gandhi and we are poor and we are illiterate, but how does that justify being raped?
Or poor and illiterate women should have no say in their lives and accept rape as their fate?
I am absolutely abhorred by this and I urge you to question her intentions when she made this statement and we the woman of this nation, we should demand an apology for all of us.